Our Lady Health - Velankanni
About Shrine Basilica
Human beings are happy when they enjoy good health. But God has created man with a body and soul. While the body is mortal, the soul, which has been created in the image and likeness of God, is immortal. The soul of man is enriched by God's grace, which enables him to lead a holy life. His intimacy with his creator, by a life of grace, caused him to enjoy peace and inner joy.
There are, however, dangers to ruin the happiness and well being of humans in all these three spheres of life-his physical, spiritual and social.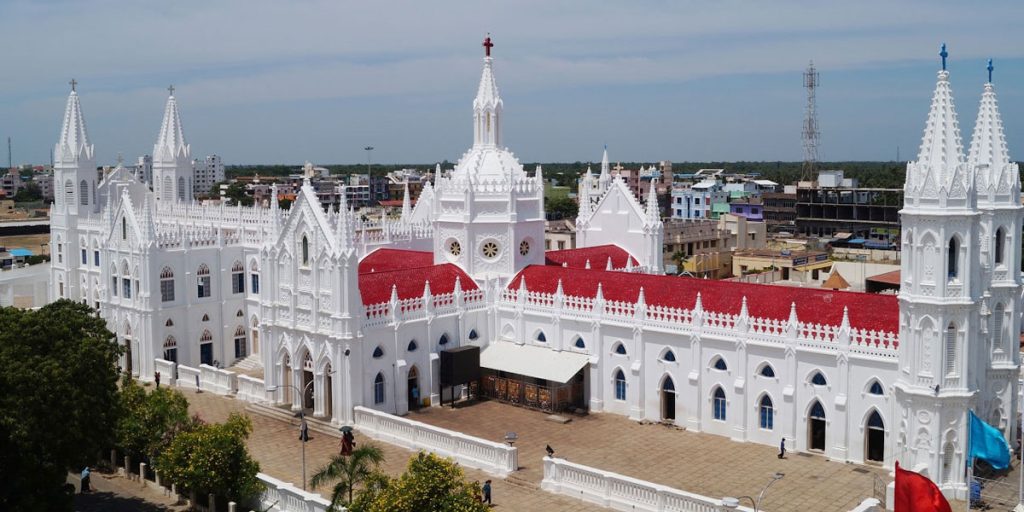 Mary our Mother of good health shows her deep concern for all her children who suffer from every kind of ailment and obtains healing for them from her Divine Son. Mary sets right such shattered relationships when her children approach her for help with absolute trust in her powerful intercession.
Ever since our Blessed Mother set foot on the sacred soil of Vailankanni some 400 years ago, she has been pouring out her tender Motherly care and compassion on all her children who are tossed about on the sea of suffering and who come to her shrine at Vailankanni seeking her help. Innumerable are the favours obtained by her devotees, who approach her, irrespective of their caste or creed. That is why she is revered in Vailankanni as the Mother of Good Health.